Our farm at Lowood, in one of Queensland's premier growing regions in the Lockyer Valley, is an important part of our supply network. The farm has added a new depth to our supply capabilities on a number of lines.
Totalling 130 acres, the farm sits in a picturesque part of the Locker Valley, and is bordered by creeks.
At Lowood, we grow broccoli, sweet potato, pumpkins (jarradale and kent special), shallots and spring (globe) onions.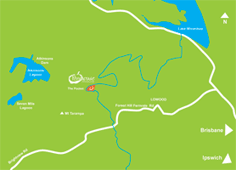 Click the thumbnail above to enlarge